Ferrari is no stranger to rivalries with other sports car manufacturers. In fact, Automobili Lamborghini was founded in May 1963 after Enzo Ferrari snubbed Ferruccio Lamborghini's mechanical recommendations on their road cars. Mind you, at that time Lamborghini was in the tractor business. That didn't work out so well for Ferrari, and neither did their conflict with Ares Design.
Ares Design is a supercar manufacturer based out of Modena Italy. Conveniently distanced 25 kilometres from Ferrari's manufacturing facility (which if one were driving a supercar, doing 0-60 mph in under 3 seconds, one could drive from Ferrari to Ares Design in about five minutes). Ares Design's dual company approach has clients designing their own cars or purchasing revamped classic car designs with new-age performance technology. Before founding Ares Design, Dany Bahar was employed at an executive level by both Ferrari then Lotus.
The contention between the two car manufacturers stems from the Ares Design reinterpretation of the Ferrari 250 GTO. For those of us who can only afford a family sedan, have never dreamt of owning a roadworthy race car, or have no interest in race cars, the 250 GTO is the most expensive car ever sold. A 2018 auction revved in $48.4 million while a private sale ignited an estimated $70 million for the vehicle. For all the gear heads out there, the Ferrari 250 GTO was manufactured between 1962 and 64. The V12 single overhead cam per bank two valves per cylinder front engine pumped out a 280 km max speed, 102 hp per litre with a 300 hp maximum at 7400 rpm. In basic terms, this was a very fast road car for its time. Did I mention only 36 were produced, making that model extremely exclusive and sought after. Oh yeah, Enzo Ferrari had to personally approve each buyer of the Ferrari 250 GTO so that it could not be owned by just anyone who simply had some money.
Now that the gearheads are informed, it's time to let the intellectual property techies have a turn in the driver's seat. Ferrari S.P.A. applied to the European Union Intellectual Property Office 'EUIPO' on 24 December 2007 for a trademark without text. The trademark covered the shape of the car. See image below for the actual graphic representation listed in EUIPO trademark database. After sitting the three-month opposition period, the trademark was registered on 29 September 2008. The filing number is 006543301 with classes 12, 25 and 28. Broadly speaking, class 12 covers vehicles, 25 is clothing, and 28 relates to games and playthings.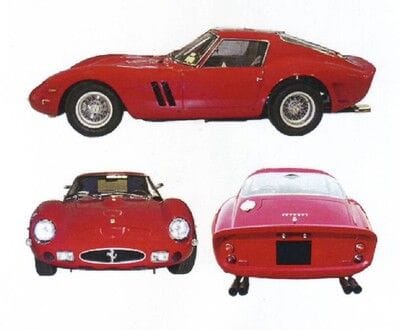 In true Ferrari fashion, it sparked all 12 cylinders with Orsingher Ortu lawyers filing an interim injunction against Ares Design for several legal matters including trademark infringement. Unfortunately, their piston rods blew through the engine block when Ares Design countered with trademark cancellation claims to EUIPO. Instead of building a competitive car like Lamborghini, Ares Designs relied on trademark law.
Article 58(1)(a) 'Grounds for revocation' of the Regulation (EU) 2017/1001 of the European Parliament and of the Council of 14 June 2017 on the European Union trademark was sought. The section states that if the trademark has not been genuinely used within five years, then it can be revoked by the Office. Several other countries and the EU refer to that as the 'use it or lose it' principle. The purpose of the principle is to allow traders the availability to use their trademarks in the market without hindrance from idling marks. Some might say that Ferrari is getting a taste of its own gasoline, considering it used similar non-use legal tactics while suing a charity called Purosangue Foundation.
Not to challenge another firm for pink slips, but one could say that if Ferrari had engaged IP Partnership, in particular our service known as 'IP Eye', Ferrari would have been informed of their genuine use requirements over the years advised what to do so as not to lose their Trademark. We will reach out to Ferrari to enquire about managing their global Trademark portfolio.
Ultimately, EUIPO's decision stalled Ferrari's claim blowing two gears out of their clutch. The trademark classes 12 and 25 for vehicles and clothing are revoked. Class 28 for games and playthings remains registered. That allows Ares Designs to roll out their version of the 250 GTO model. Ferrari filed the application form for appeal on 22 July 2020. That race will take longer than the 24 hours of Le Mans to determine the winner so buckle up.
(Current as at 3 December 2020)