Frank Ocean said he "sees both sides like Chanel". "See on both sides like Chanel" or is it "C on both sides like Chanel"?
One thing we know for sure, that beautiful logo featuring the two "C's" facing two different directions is quintessential Chanel. People pay a lot of money to ensure their clutch has those C's on the front. After all, "the best things in life are free. The second best are very, very expensive" Coco Chanel. So it is no wonder the bosses at Chanel will not tolerate any conduct that would purport to undermine the goodwill established in such an iconic logo.
The 112 years old fashion house Chanel has filed a complaint to the Southern District of New York about a trademark infringement by a Georgia-based assessor line, Shiver+Duke and its founder Edith Anne Hunt. The jewellery line is taking authentic buttons, bearing Chanel's immediately recognisable CC Monogram and putting them on chains, earrings, and bracelets.
The defendant referred to the jewellery as "designer" and used the CHANEL mark to identify their CC monogram button jewellery on www.shiverandduke.com an e-commerce website, alongside jewellery that is made from Louis Vuitton and Gucci hardware, buttons, and canvas.
Chanel complained that the defendants' use of the CC monogram is intended to trade on the goodwill that Chanel has created in its mark through decades of use and millions of dollars in investments.
Shiver+Duke has generated revenues that exceeded $300 M from jewellery sale bearing the CHANEL marks from 2015 to 2019. The third-party retailers have advertised and promoted those infringing jewellery products as Chanel costume jewellery due to the defendants' use of the CHANEL marks.
Chanel states that it already sent a cease-and-desist letter to Shiver + Duke back in September 2020. However, instead of stopping their allegedly infringing activity, Shiver +Duke only made minor changes such as describing their jewellery as "reimagined" and "reworked" and claims that the infringing jewellery products are "original designs" of Shiver + Duke. Shiver +Duke has added SD SHIVER + DUKE marks on the back of the CC monogram buttons to allegedly mislead consumers.
Consequently, Chanel contends that consumers can be easily misled by this modification and mistakenly believe that Shiver+ Duke's jewellery products originate from Chanel. It is important to note there is no clear statement on the package explaining that their jewellery is not associated with Chanel.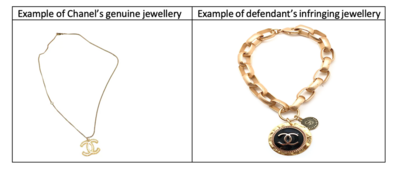 Chanel's immediately recognisable CC Monogram is the main source-identifying feature of the jewellery. The argument is that using "Shiver+ Duke" marks at the back does not change the fact that the selling power of the defendants' jewellery products relies upon the fame of Chanel.
"The defendant intended to ride on the fame and goodwill of Chanel's trademarks, to profit from the CHANEL marks", Chanel argues. This infringement will cause confusion among consumers. Also, it damages the good reputation of Chanel and CHANEL marks in the fashion industry. Chanel seeks monetary damages and injunction to stop the defendants from making profits by its unlawful use of the Chanel trademarks. Chanel filed to the New York Federal Court against Shiver + Duke based on trademarks infringement as well as unfair competition.
Rae Sremmurd, Swae Lee, Slim Jxmmi and Pharell Williams all agree that you should "take her to Chanel, 'cause she fine". "Take her to Shiver and Duke cause she is fine" just doesn't have the same ring to it in our opinion.
If you are in the fashion industry, protecting your trademark can be the difference between failure and success. Trademark registration ensures that you are the legal owner of your business, brand, or product name or logo. If you need help in registering a trademark for your brand (in Australia or internationally) or are concerned your Trademark may be being infringed by a competitor please do not hesitate to contact IP Partnership.