The "Old Town Road" rapper Lil Nas X launched a controversial pair of "Satan Shoes" that contains a drop of real human blood, and 666 pairs of "Satan Shoes" were sold out in less than a minute. They were priced at $1,018.00 a pair, which is a reference to the Bible passage in Luke 10:18 reads, "I saw Satan fail like lightning from heaven". Hectic!
MSCHF are the collective behind Lil Nas X, which is a quirky company Based in Brooklyn. It is known for its stunt products such as toaster-shaped bath bombs and rubber-chicken bongs, and it has previously co-opted pairs of Nike Air Max 97s. MSCHF dropped "Satan Shoes" on the launch of Lil Nas X's latest song Montero (Call Me By Your Name), which debuted on Youtube. Following the video's release, Lil Nas X teased the release of his new Satan Shoes on Twitter.
The modified black and red Nike Air Max 97 sneakers-adorned with a bronze pentagram charm and a drop of human blood in the midsole- are the latest customized Nike footwear product to be released by MSCHF. They also released a pair of custom-made "Jesus Shoes" in 2019.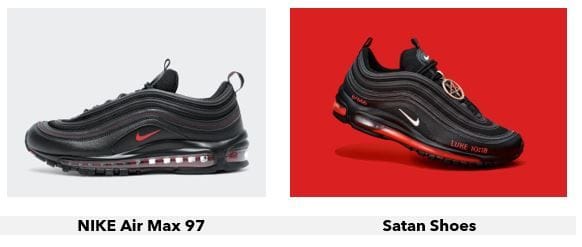 MSCHF and its Satan Shoes are likely to cause confusion, as consumers will likely form the belief that Nike is involved. Nike has issued statements to multiple media outlets, including CNN, clarifying it does NOT have a relationship with Lil Nas X or MSCHF and that "Nike did not design or release these shoes and we do not endorse them."
Nike accuses MSCHF of trademark infringement over the designer's 666 pairs of modified Nike sneaker. It has asked the Court to stop MSCHF from selling the shoes and prevent them from using its famous Swoosh logo. Lil Nas X tweeted a series of memes mocking the lawsuit, insinuating that he would suffer a financial blow from the suit.
If you require a registered trademark for your brand, believe your trademark is being infringed by a competitor or have received a trademark infringement letter, we would be pleased to assist.